It is estimated that the "big four" online service companies – Google, Amazon, Microsoft, and Facebook – collectively store up to 1,200 petabytes of data between them. Much of this data is sensitive personal identifying information of people from all over the world who undoubtedly shared their personal information in confidence while interacting with these companies online.
If you use a website to market your product or services in the digital marketplace, your customers expect you to safeguard their personal information. In fact, according to Pew Research, 74% of Americans think it is "very important" to remain in control of who can collect and retain their personal information.
Google recently announced that it would be, "improving privacy and even loading speed for users visiting websites that support HTTPS," in an upcoming update (version 90) of its popular Chrome web browser. This means that if your website is not using the HTTPS protocol, your customers may not be able to access your website, or their web browser may inform them that your website could be unsafe to engage with.
To understand this change, let's first dive in to understanding HTTP versus HTTPS protocols. HTTP, or Hypertext Transfer Protocol, provides a standard process for a web browser to submit a request to a website or web hosting server, and for the website to respond to the request. This is what occurs anytime you visit a website using the standard HTTP protocol.
HTTPS, or Hypertext Transfer Protocol Secure, provides a more secure method for transmitting information between the web browser and the website or web hosting server by encrypting the information exchange using Transport Layer Security (TLS)/Secure Socket Layer (SSL) encryption, rather than simple plaintext. Websites using secured connections can generally be identified by the padlock icon that appears in the address bar of the web browser.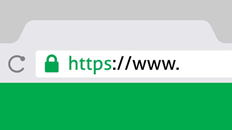 While most websites are accessible using the HTTP protocol, only those websites that have been protected with a set of TLS/SSL encryption keys can be accessed using the preferred HTTPS protocol.
In 2017, Google modified the Chrome browser in version 56 to make it easier for website visitors to know when they were or were not using a secure connection. This update included a specific notation that a site was "Not secure" in place of the familiar padlock icon when connected to websites that were not secured using HTTPS.

With the upcoming release of Chrome version 90, Google will take this one step further by forcing website visitors to the HTTPS protocol if they access a website by typing in the website address (yourdomain.com) without specifying HTTP or HTTPS.
Safeguarding your customers' personal identifying information starts with you! The website security experts at aJuxt can assist you with purchasing and installing a TLS/SSL certificate with encryption keys to your website to ensure that your customers are able to engage with your business safely and securely.
Written by Andy Janecek || Web Presence Consultant