I get it. You want to work in social media marketing. So does everyone else. On LinkedIn alone, there are 5 million people claiming to be experts in the field. The good news? Job prospects have grown exponentially over the last five years — by 1,357 percent, to be exact. But how do you make yourself standout? If you want be an exceptional social media job candidate, use these tips.
Be present.
It seems like an obvious step, but right from the start you need to make sure that you have your own social media presence. Create a personal brand so people will know what you're about and what you can offer. Add a summary of your skills, interests, work experience, certifications and supported organizations to your LinkedIn profile. Start a Facebook group about a topic that interests you. Engage in conversations on Twitter. Use Instagram to capture your world and create your image. How will a potential employer know what you can do if you can't prove that you can navigate the space? Just remember to keep it professional.
Be original and relevant.
The content you post on LinkedIn, Facebook, Twitter and other social media channels should show that you are a creative thinker and are up-to-date on the latest topics. If you find a professional article that appeals to you, highlight it. Better still, write your own piece to add value to the discussion.
Be on the same page.
You need to make sure you're speaking the same language as a potential employer. Familiarize yourself with the organization and the organization's priorities and make sure that you are on the same page. Learn the type of social media platform where they're trying to increase or improve their presence. What do they need? Do that.
Be out and about.
If you spend a lot of time in front of a screen, it's easy to forget this crucial part. The people you engage with in person can really help to propel you to greatness. These relationships that you build can move your work from anonymity to the minds and the eyes of people who could really use your skills. A great event to consider attending would be the Social Media Marketing World conference. You can also start by joining your local chapter of the American Advertising Federation.
The good news about social media marketing is that it's always changing, so if you're just getting started you haven't missed out. If you're an expert, let us know!
Good luck!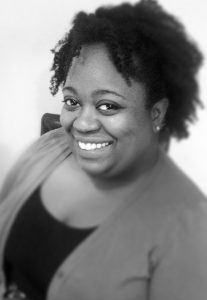 Written by Dominique Williams || Guest Blogger
Dominique Williams is a graduate of the University of Nebraska-Omaha and an HR professional specializing in Benefits and Compensation issues. In her spare time, she enjoys reading short story anthologies and dreaming about being a runner. She currently lives in Arlington, VA.