FOR IMMEDIATE RELEASE: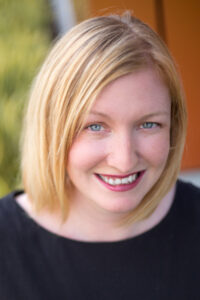 aJuxt CEO Lynsie Slachetka Presenting at NYC Conference for Women in Business
New York City, NY— aJuxt Media Group founder and CEO Lynsie Slachetka will lead a workshop at the Becoming Wildly Successful in Ecommerce Conference on March 30, 2021.
Attendees will leave Slachetka's "Zero in On Your Best Customer" workshop with a greater understanding of how to use digital tools and search engine optimization (SEO) to target and engage customers and maximize return on investment in their marketing efforts.
"The female entrepreneurs attending this conference know that real success in the e-commerce realm is evasive," Slachetka said. "This workshop will equip them with the skills and information they need to locate their best customers online and lay a digital pathway to those customers for their businesses."
Slachetka's experience spans digital advertising, search engine optimization, social media management, reputation management, visual storytelling, video production, public relations, and print/broadcast journalism. Her work experience includes working for Hearst Digital Media Services and being co-owner of a Tallahassee, Florida-based marketing agency, Voxy Media Group, before breaking out to start aJuxt Media Group. She is passionate about helping other women succeed in business, and looks forward to leading this workshop in March, which is also Women's History Month.
The "Becoming Wildly Successful in e-Commerce" Conference aims to help online retailers sharpen the way they target, engage and compel people to purchase their products or services. Organized by New York Women in Business in partnership with SCORE and NAWBO, the conference also aims to illustrate ways business owners can "supercharge" their e-commerce process to increase their success.
---
About aJuxt
aJuxt Media Group plans and produces targeted media campaigns that reach highly delineated audiences to heighten awareness and elevate engagement with your brand, organization, products, or services. Our clients range from public companies to entrepreneur-owned businesses, along with professional associations and nonprofit organizations. www.ajuxt.com
About New York Women in Business
New York Women in Business (nywib.org) is a network of professional organizations that gives small business owners access to mentoring, networking, training and business resources. Founded in 2016 by SCORE, a partner resource of the Small Business Administration, its mission is to create a supportive community for women entrepreneurs and professionals. It currently has a reach of 100,000 women entrepreneurs. Its members are women-owned businesses, start-ups, independent contractors and solo-entrepreneurs in the New York Tri-State area. These women work in retail, e-commerce, food, hospitality, fashion, financial services, marketing, wellness, beauty, arts, entertainment and community service organizations.