FOR IMMEDIATE RELEASE: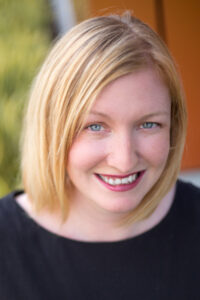 New York City, NY- In celebration of Women's History Month, Women Entrepreneurs NYC (WE NYC) will host a dynamic two-day virtual conference for women entrepreneurs on March 28 and 29, 2023. aJuxt CEO Lynsie Slachetka will present with a panel of strategic experts focused on reaching new clients.
Conference attendees will learn key techniques to exponentially grow their businesses, including how to capitalize on new market opportunities and the importance of developing niche offerings. Attendees will also have the opportunity to connect with marketing and business development experts on how to take their businesses to the next level.
aJuxt Media Group founder and CEO Lynsie Slachetka will be part of the panel workshop on day 2, which will feature a lineup of accomplished female small business experts who will share strategies to identify and connect with new and existing clients. Slatchetka's experience spans digital advertising, search engine optimization, social media management, visual storytelling, public relations, and print/broadcast journalism. She is passionate about helping other women succeed in business.
Learn more and register for the WE NYC Conference and celebration of Women's History Month by visiting ajuxt.com.
---
About aJuxt
aJuxt Media Group plans and produces targeted media campaigns that reach highly defined audiences to heighten awareness and elevate brand engagement. Clients range from public companies to entrepreneur-owned businesses, professional associations and nonprofit organizations. www.ajuxt.com
About New York Women in Business
New York Women in Business (nywib.org) is a network of professional organizations that gives small business owners access to mentoring, networking, training and business resources. Founded in 2016 by SCORE, a partner resource of the Small Business Administration, its mission is to create a supportive community for women entrepreneurs and professionals. It currently has a reach of 100,000 women entrepreneurs. Its members are women-owned businesses, start-ups, independent contractors and solo-entrepreneurs in the New York Tri-State area. These women work in retail, e-commerce, food, hospitality, fashion, financial services, marketing, wellness, beauty, arts, entertainment and community service organizations.