Alternative text (commonly referred to as "alt text") are tags made up of text within the HTML code that describe an image both visually and functionally. Alt text is often one of the last things considered when building a website, but is a vital part of search engine optimization (SEO).
So, why bother with alt text if the image is there and can speak for itself? A major reason is accessibility. When a visually-impaired person visits your site, alt text fills in the blanks via a screen reader for any images that are unable to be viewed.
Alt text provides information to search engines, like Google, about what the content on a page that contains an image. It provides context for the image and tells search engines what the image is about. In addition, it provides another place to optimize your target keywords.
Alt text is also used when an image doesn't load. In this case, the alt text is displayed instead, allowing a user to understand what the image is and how it works within the content of the page.
Here are six things to remember as you tackle your own alt text:
1) Describe the "feeling" the image portrays, as well as accurately describing what's going on in the picture. Ask yourself, why did you use this particular image? Try reading the description to someone before they see the image—ask what kinds of things they picture or what feelings it invokes.
2) Keep it short and sweet. Use natural language and relevant descriptions. There's no perfect length for an alt tag and different search engines or screen readers may allow different lengths, but aiming for around 125 characters—roughly a sentence—is a good guideline.
3) Avoid keyword stuffing, but do use your keywords where it is appropriate to do so. To clarify: keyword stuffing is the practice of listing ("stuffing") keywords that you want the page to rank for in the alt text of an image rather than describing an image accurately. This is done in the hopes that a page will rank for those keywords. This provides absolutely no boost in rankings and has actually become detrimental to a page's rank when detected by search engines.
4) You don't need to say "image of" or "picture of," it is already established by the image tag that it is a picture.
5) For SEO purposes, it's strongly recommended that you do not use images of text in place of plain text. However, if you must do so, make sure that the alt text contains that text.
6) If the image is purely for decoration and doesn't add any context to the page (a background for example), you can leave the alt text empty.
Here are a couple of examples of these tips in action:
Image From a Summer Camp Website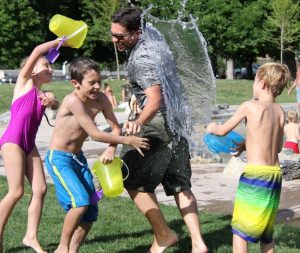 Bad Alt Text (this is keyword stuffing): summer fun, summer camps, summer camp programs, outdoor summer activities, fun camps, kids camps
Okay Alt Text: Kids and an adult having a water fight.
Good Alt Text: Group of smiling boys and girls dressed in bathing suits pouring water onto a counselor outside on a sunny day.
Image From a Bakery Website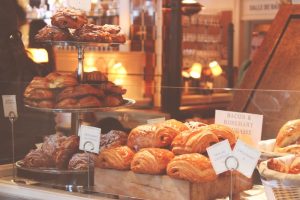 Bad Alt Text: Baked goods
Okay Alt Text: Baked goods in a bakery window
Good Alt Text: Display window of a bakery stuffed with a large amount of pastries, glazed and almond croissants, and bacon and rosemary fougasse.
Tagging all of the images on your website may seem like a daunting task, but it is important for SEO rankings and for making your site accessible to all users. Let aJuxt save you time by setting up alt tags for all of your website images! Contact us today to learn more.
Written by TinaKay Oliver || Google Analytics & SEO Consultant